Inflatable Movie Screen

Quality Indoor/Outdoor Inlfatable Movie Screen Rentals in Aberdeen, Southern Pines, Pinehurst NC!
Silly Hopper's Inflatable amusements and Party Entertainment is here to provide you with the perfect solution to your next indoor or outdoor movie night event. Our inflatable movie screen is perfect for birthday parties, family movie night, corporate events or just a fun movie night with friends and family. Our inflatable movie screen comes with a projector that enable multiple AV input options, as well as a party sound system that will provide theather quality sound for your event. With our professional set up and take down, you can rest easy knowing that your movie night will be enjoyable and hassle and stress free!
We know that you want an indoor or outdoor movie system that provides great sound a large enough screen for all of your guests to have a great view, and Silly Hopper's has the perfect solution! So what are you waiting for? Book our Inflatble Movie Screen today and get ready for a blockbuster event!
20' Backyard Cinema - One Day Use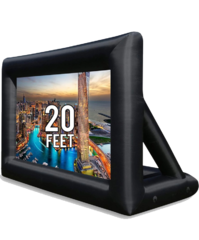 20' Backyard Cinema - Weekend (Multi-day) Use