Photo Strip Scrapbooking Station $75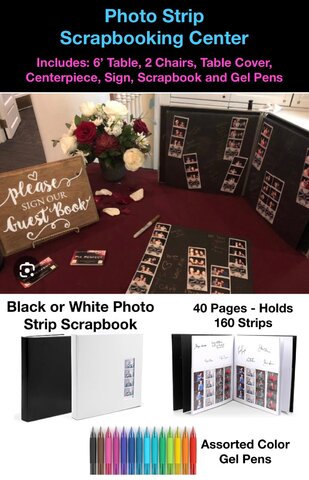 $75.00
FOR MORE DETAILS PLEASE CALL US AT (910) 543-1619

Description
Create A Beautiful Event Keepsake for Yourself!
Add on an event complimenting Photo Booth Strip Scrapbooking Station to enhance the Photo Booth Experience while also creating a fun, memorable keepsake.
Your Photo Strip Scrapbooking station will be a fun place where your guests can leave you a copy of their amazing Photo Booth strip and/or leave you heartfelt messages to help celebrate your event.
Your Photo Booth Strip Scrapbooking Station will include the following:
A 6' Table with a theme complimenting table cover and 2 Chairs

A Centerpiece

A Photo Booth Strip Scrapbooking sign inviting your guests to leave a copy of their amazing Snap'd Expressions.

A Black or White 10x10 Photo Strip Scrapbook. This scrap book has 40 pages that can hold up to 140 prints total.

An assorted color of Gel Pens your guests could use to leave you personal messages inside your scrapbook.